Ground breaks on rocket engine manufacturing facility in Alabama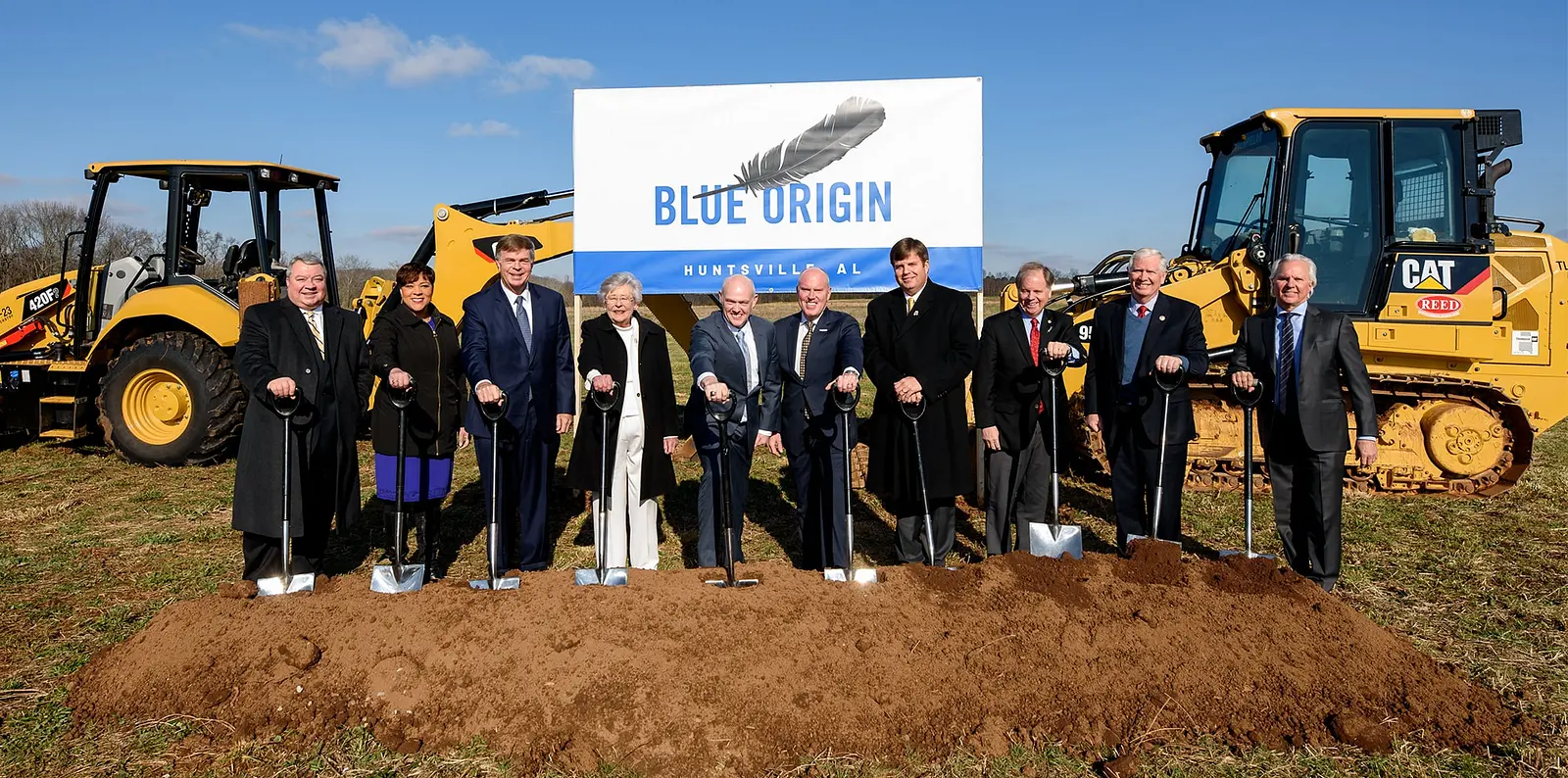 Aerospace Leader Blue Origin to occupy new 46-acre facility in Cumming Research Park in 2020
Announced today is the start of construction for Blue Origin's new engine manufacturing facility in Cummings Research Park in Huntsville, Alabama. The new 350,000-square-foot facility will house the tooling and infrastructure equipment and operations required to manufacture the BE-3U engine and the BE-4 liquefied natural gas (LNG) fueled rocket engine for orbital spaceflight.
This facility is also a significant project for the city of Huntsville, bringing more than 300 jobs to the area and further underscoring Alabama's position as a hub for innovation, aerospace and technology.
"It's a great day here in Rocket City," said Bob Smith, CEO of Blue Origin. "Thanks to the votes of confidence from United Launch Alliance, from the Air Force for national security missions, and from Huntsville and the state of Alabama, we are breaking ground on a world-class facility to produce our engines and power the next generation of spaceflight."
Blue Origin required a strategically designed facility that would be able to not only support equipment needed for the complex manufacturing process but also allow room for each product development phase. The final result will be a 3-story, 41' tall facility capable of receiving, manufacturing, fabricating, assembling, testing and shipping the highly sophisticated rocket engines.
WMB-ROI (program management) handled all the process equipment and tooling planning, factory planning and logistics planning for the installation and set-up of the factory. WMB-Roi also created and managed facilitation budget and schedule for full implementation of all equipment and tooling stand up. Full rate production will occur in Huntsville after the anticipated completion date of the new facility in March 2020.
"We are very humbled to receive such a noteworthy accolade from ENR and the top minds in the construction and design industry," said Anthony Johnson, President of Clayco's Industrial Business Unit. "The Blue Origin Engine Plant is truly a world class facility, and plays a significant role in American space travel and national security. WMB-ROI, Clayco and LJC are honored to bring this career-making project to life for Blue Origin. The high level of collaboration and partnership involved was second to none to make this aspirational project a reality for our client."
In the Best of the Best program, winners from each of the 10 regions compete against one another in each category for national honors. Nearly 900 projects were entered in the regional competition this year, and this project was among one of 20 selected as a Best of the Best.